Verdict: The ones that got caught are pretty dumb. Most of them never even left town after the robbery. But a few have gotten away with it in the last thirteen years or so. Check out some of the interesting ways these people have been caught, and how others managed to evade police. A few are still on the loose!
---
Bonnie and Clyde — BUSTED
In 2003, a married couple, Karen Souza and Mikeal Stine, both Florida residents, went on a crime spree across the southern states. They robbed banks in Florida and in Columbus, Texas, in addition to robbing around $9,430 from Hill Country State Bank in Kerrville. They traveled from Florida in a pickup truck and evidently stayed the night at the Inn of the Hills after robbing the bank — just a few doors down! They even stopped over to buy a cargo trailer with cash at True Master Trailers after the robbery and shopped at several other local businesses before moving west. They were arrested in Phoenix, Arizona, in June 2003, after police stopped their pickup truck and trailer and ran the plates.
"I have a gun just like the man at the door. Give me your 100s 50s 20s. You have thirty seconds to do this. Give me this note back when you are through." –Robbery note presented to the teller at Hill Country State Bank
After they were arrested, the wife, Karen, pleaded guilty and agreed to testify against her husband Mikeal. He was convicted thanks to her testimony. This was his fifth conviction, and his other crimes included wire fraud, contempt of court, and two escapes from custody.
Interesting tidbits from the trial… The husband put superglue on his wife's fingers to prevent her from leaving fingerprints. The wife was sent inside the banks while the husband waited in the getaway car.
---
Hungry for money — ESCAPED
At lunchtime on March 11, 2004, a man walked into the Texas Hill Co Credit Union on the old Hal Peterson Middle School Campus at Tivy and North Streets in Kerrville. He demanded money and left on foot.
"As is standard KISD procedure, students at Hal Peterson Middle School and B.T. Wilson Sixth Grade campus were immediately sheltered in place. In addition, law enforcement secured all classrooms and monitored surrounding perimeters." — Dan Troxell, KISD Superintendent, after the robbery
The robbery was never solved, and no arrests were made.
---
Still waiting on that taxi… — BUSTED
Less than a week after the campus bank robbery mentioned above, a man walked into Bank of America on Water Street (the one across from where Cartwheel's is now) and demanded money from the teller. He threatened to have a weapon, but turns out he didn't have one.
After leaving the bank with the money, he walked just two doors down to the visitors center on Water Street and used the public restroom!
Then, just a few minutes later, he was spotted on Water Street down by the Townhouse Residential Center. He had called a cab, got tired of waiting for it, and started walking. That's when he was spotted by police and grabbed. All the cash was recovered.
---
Is this a joke? — ESCAPED
In April 2008, Bank of America on Water Street was robbed again. This time a man walked in and handed the teller a note demanding money. The teller thought it was a joke, but the man assured her it wasn't. He took an undisclosed sum of money and left on foot.
"I've never heard of this happening in Kerrville." — Customer who was in the bank at the time of the robbery
The robbery was never solved, and no arrests were made.
---
A Super Robbery — BUSTED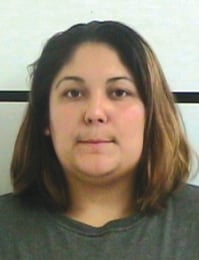 In May 2011, a Hispanic woman robbed a branch of the Kerr County Federal Credit Union which was located inside the old Super S store on Junction Highway. She walked up to the counter, showed them a gun, and got away. A woman was waiting in a car outside and the couple escaped with an undisclosed amount of money.
The next day police got a tip that the suspect was in town, and was arrested near I-10 and Highway 16 at the north end of town. She was sentenced to ten years in September 2011, but released in April of 2012 on parole. Just a few months after being paroled, she was arrested again for theft.
---
Double Duty! — ESCAPED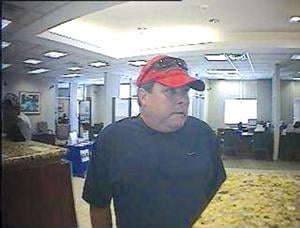 It takes a lot of nerve to rob a bank, but how about two in one day? This guy hit two banks — Bank of the Hills and BBVA Compass Bank — within thirty minutes in August 2013. He even managed to change clothes between robberies.
He was never caught.
---
Leprechaun robs local bank — BUSTED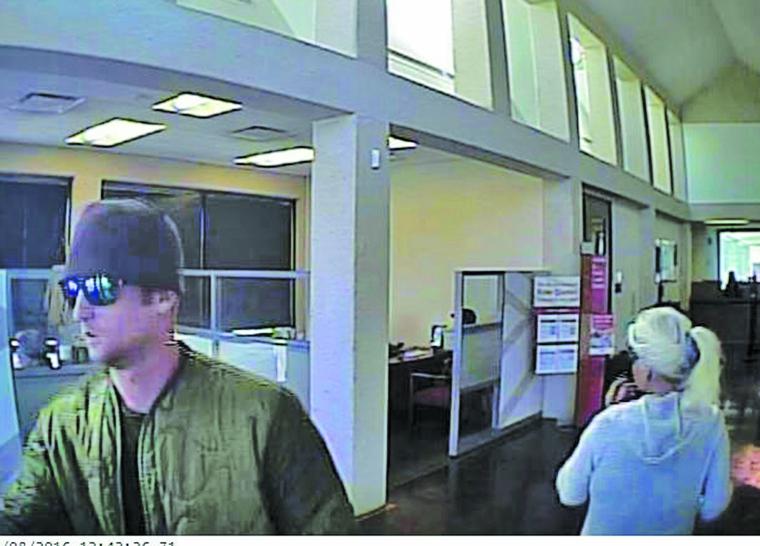 Cody Dean Scales walked into Bank of America — this time located on Main Street just a couple of blocks from the police station — and demanded money after pulling out a gun. He had a red beard and wore a green jacket and beanie.
By the next day, someone had recognized Scales and turned him in to police. He was arrested early in the morning the day after the robbery while riding his bicycle. He is currently being held on a $200,000 bond in Kerr County Jail.
---
All information gleaned from local newspaper archives and various internet news sources.