The community continues to respond to the ongoing COVID-19 pandemic, as new directives are released by Governor Abbott and other officials. Here is a list of important information for today.
Bars and restaurants ordered closed
Governer Abbott issued an executive order instructing all bars and restaurants to close today. Drive in, delivery, and curbside service is allowed. Check with your local restaurants for their new operations, or visit the Kerrville Convention and Visitors Bureau site for a great list of local restaurants offering these options.
In addition to bars and restaurants, the Governor also prohibited visiting gyms, nursing homes, and other venues.
School closures
Kerrville ISD, Ingram ISD, and Comfort ISD all issued notices of school closures, and Governor Abbott issued an executive order closing all state schools.
Free meals for kids and teens
KISD will be offering free breakfast and lunch to all children under the age of 18. Details in the flyer below.
UIL extends suspension of competitions
From UIL: "We have previously communicated that all UIL activities are suspended until March 30th. Given information related to school closures available at this time, we are extending that timeframe. UIL games and contests will resume no earlier than Monday, May 4th. Prior to that date, to allow students and schools to reenter competition, UIL will provide a reasonable acclimatization period for rehearsals and practices to occur, consistent with the advice of local, state and federal officials. We will reevaluate the beginning dates for practices and rehearsals as we receive more information about schools resuming."
EasterFest is canceled
Leadership Kerr County announced that their EasterFest event, scheduled for April 11, has been canceled. See press release below.
Symphony of the Hills cancels last concert of season
The concert scheduled for April 23 has been canceled.
Kerrville Folk Festival reschedules
The Folk Festival has been rescheduled to October 8-18, 2020.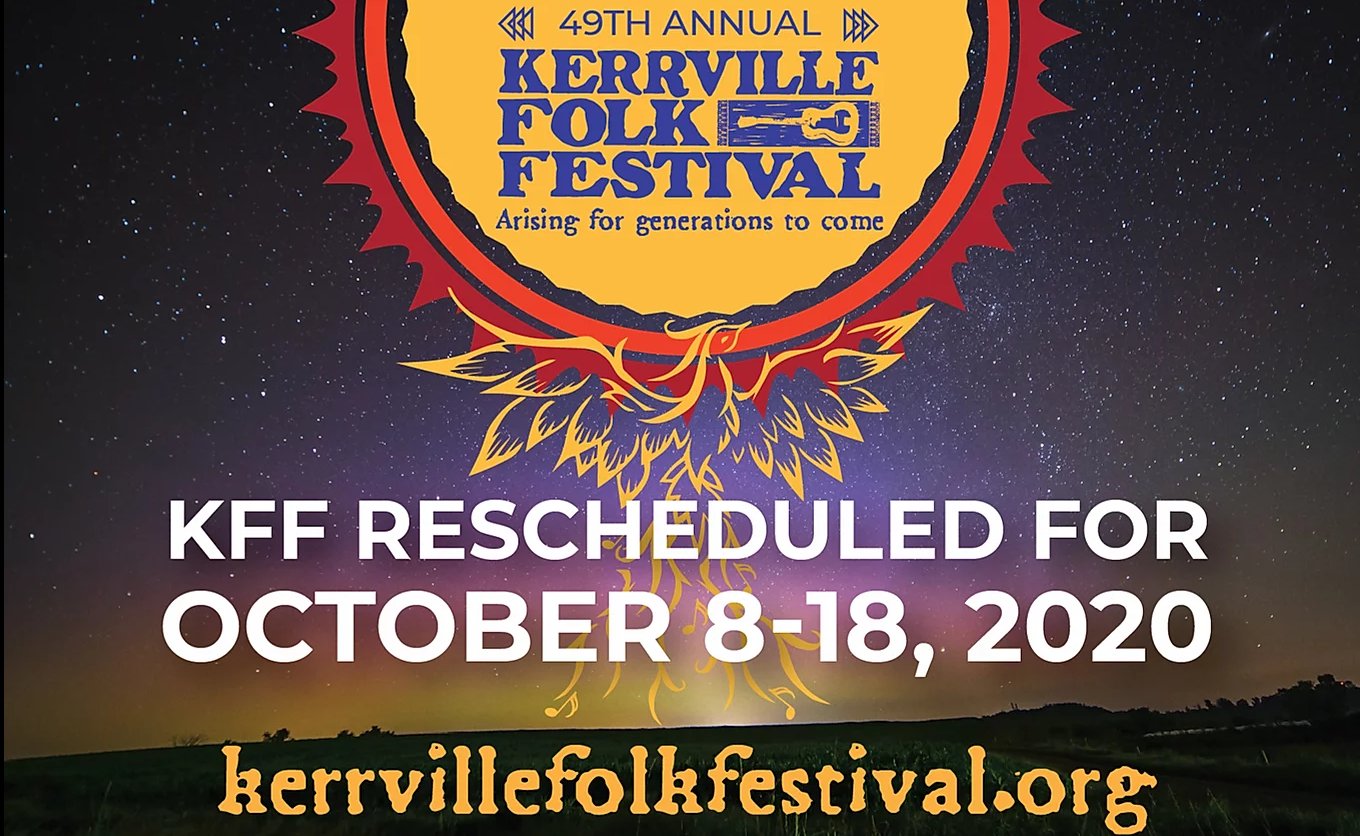 City leaders release video regarding COVID-19
City Council meets at 10 AM
To discuss ongoing efforts to combat the spread of COVID-19 in our community. The meeting can be streamed here: http://player.frontlayer.com/live/fl518492